Hospital Filtration Survey Results in Improved Air Quality Upgrade with MEGAcel™ I Filters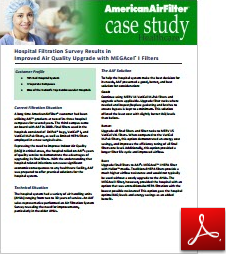 A long time AmericanAirFilter® customer had been utilizing AAF® products at two of its three hospital campuses for several years.Expressing the need to improve Indoor Air Quality (IAQ) in critical areas, the hospital relied on AAF's years of quality service to demonstrate the advantages of upgrading its final filters.
A Case for MEGApleat® M8: Case study 1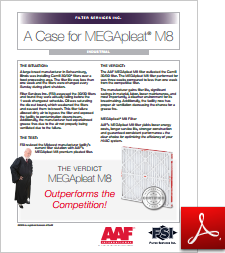 A large Midwest manufacturing facility was
experiencing filter failures using MERV 10 high
capacity pleats. The MERV 10 pleated filters
were only lasting 6 weeks.
A Case for MEGApleat® M8: Case study 2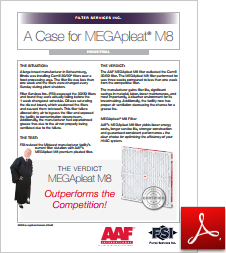 A large bread manufacturer in Schaumburg,
Illinois was installing Camfil 30/30® filters over a
food processing area. The filter life was less than
one week and the filters were changed every
Sunday during plant shutdwn.
A Case for MEGApleat® M8: Case study 3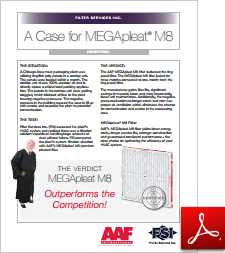 A Chicago Area meat packaging plant was
utilizing ring/link poly panels in a rooftop unit.
The panels in the rooftop unit were getting
clogged, which blocked airflow to the plant
causing negative presssure. The negative
pressure in the building caused the area to fill up
with smoke and exposed the plant to potential
contamination.